Dave Grohl wins ALS bucket challenge!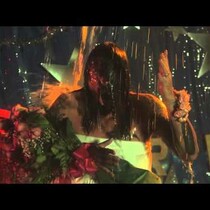 Posted August 20th, 2014 @ 9:48am
Dave Grohl has taken the ALS Ice Bucket Challenge to a whole new level. With the help of his fellow Foo Fighters and a little movie magic, Grohl sends up the classic horror movie Carrie based on Stephen King's first novel.
But before facing the music Grohl issues the challenge to Jack Black, John Travolta and appropriately enough, King himself.
The Foos' three-minute remake finds Grohl playing Sissy Spacek's prom queen character from the film, with drummer Taylor Hawkins filling the roll of the prom king in order to reenact the movie's pivotal scene when gallons of blood are poured over her head.