Guy on bike hit by truck carrying mattress...but lands on the mattress. What?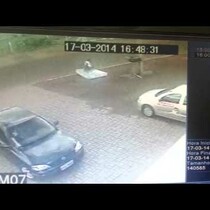 Posted March 20th, 2014 @ 3:20pm
WHAT???? No way! This has to be fake. What do you think?
A guy on a bicycle was hit by a passing pickup truck which was carrying a mattress. Luckily for him, the mattress flew off the truck and landed in the right place at the right time to soften his fall. And luckily for us, the entire amazing incident was caught on video.