METALLICA: Wait, Is That Hetfield in Guitar Center?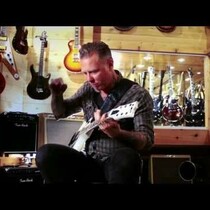 Posted February 6th, 2014 @ 12:00pm
If you hear someone playing a Metallica riff at a Guitar Center, it might be James Hetfield.
Hetfield recently took part in Guitar Center's interview series at their San Francisco location. And customers roaming around the store had no idea that it was Hetfield tearing through numerous riffs from the Metallica catalog. Check out the video of the interview on YouTube now.